Comfort Fedoke (21) is a Hip-Hop dancer raised in Lagos, Nigeria, now living in Dallas, TX. She is a graduate of Booker T. Washington Performing Arts High School. Fedoke was a featured performer for the past few years on "Dallas Dance Club 21," the local Dallas dance television show. You also may recognize her from So you think you can dance..
What is your full name?
Comfort Ogheneruro Fedoke
Do you have a nickname?
C-O
Where do you currently live?
I live in Carrollton, Texas.
Where were you born?
I was born in Fort Worth, Texas
What is your hometown?
Lagos, Nigeria
How old are you?
21
What is your birth date?
05/20/1988
Are you in school? If so, which one and how long? Did you graduate?
Yes I'm in School. I go to Brook Haven Community College and no I have not graduated yet....
Are you married?
No I sure am not!!!!
Do you have any children?
No I sure Don't!!!!!
How old were you when you started dancing?
I'll say I was 8 years old when I started dancing.
Do you have any formal dance training?
I do have formal dance training because I attend Booker T Washington High School of Performing Arts for 2 and a half years
If you had to categorize your dance style, what would it be?
I'm a hip hop dancer, popper.
What other talents/hobbies do you have?
I like to rap, sing and write music. I also love to draw and paint on clothes. I'm a very unique and I'm a busy body. I always have to find something to do because I get bored easily..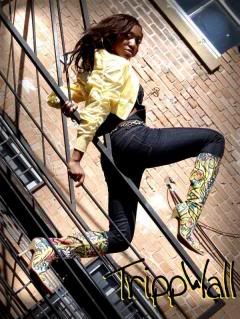 Who is your favorite professional dancer?
Sho-Tyme
Does anyone in your family dance professionally?
No not that I know of.
Have you performed in musical theater or in public functions as a dancer?
Yes, I performed in plenty of public functions.
Where would you like to be in 10 years and what would you like to be doing?
In 10 years I want to be as successful as I can possibly be. My motto is I want to be wealthy not rich, so to get to that point I'm going to stay business minded and have my own business.
What has been your most memorable dance experience?
My most memorable dance experience is when my god brother and I worked with one of the top best choreographers Sho-Tyme and he taught us so much and kept me on my toes. He was my biggest motivation to keep pushing as a female hip hop dancer as well as a popper. He showed me that I can keep up with the guys and beat them at they own game!
What are your favorite dance moments from movies, TV and/or stage?
My favorite dance moments are always street battles. Something that is raw and real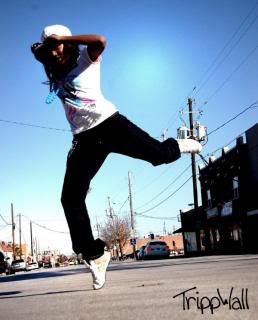 Which choreographers would you like to work with?
I want to work wit Wade Robinson, Mia, Napoleon and Tabitha, and most definitely I would love, absolutely love, to work with Lil C.